Ksuga Wakamiya Onmatsuri
Favorites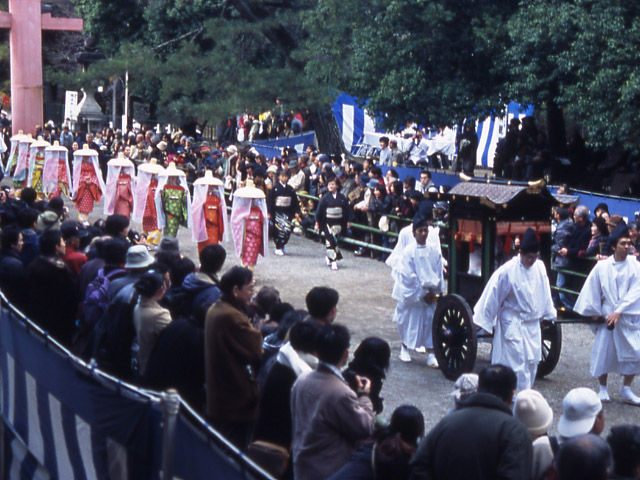 Location information
Name

Ksuga Wakamiya Onmatsuri
Address

Nara city, Nara prefecture
Description

The Wakamiya Onmatsuri takes place annually at Kasugataisha Shrine on December 17. It has been passed down for over 1200 years and the performances associated with it have been designated a National Important Intangible Folk Cultural Property. A procession of priests, samurai, and locals in 12th century attire start from Nara City Hall and move through the streets, eventually arriving at the shrine late at night. Shinto dance (kagura) and traditional courtly song and dance (bugaku) are performed along the route, with a variety of other events occurring sporadically throughout the festivities.
Date of photo shooting

December 2003
Shooting Time

Noon
Weather at the Time of Shooting

Sunny
Category
Contact info for inquiries
Address

Noborioji-cho 30, Nara city, Nara prefecture, 630-8501

Contact Information

TEL:+81-742-27-8975
FAX:+81-742-27-0213
Contact
Area Map
※ The above map is showing the name of the location and the place name to origin. It's sometimes different from an actual place, so please accept it beforehand.