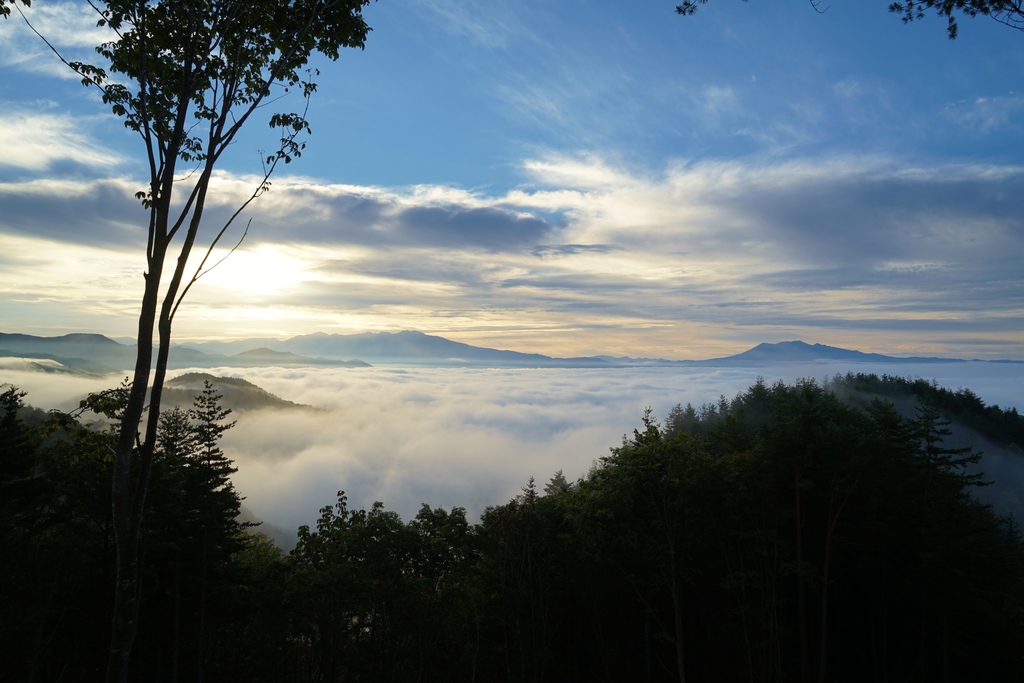 Location information
Name

Anbou Mountain
Address

Kamikita, Furukawa, Hida City
Description

【Hida,Nature】
It appears early morning and fall is the best season.
We can overlook the city from there.
Date of photo shooting

2018
Weather at the Time of Shooting

Sunny
Category
Other
Contact info for inquiries
Name
Address

c/o Hida Tourism Association, 2-22 Hon-machi, Furukawa-cho, Hida city, Gifu prefecture, 503-0923

Contact Information

TEL:+81-577-73-7463
FAX:+81-577-73-6866
Area Map
※ The above map is showing the name of the location and the place name to origin. It's sometimes different from an actual place, so please accept it beforehand.
Locations by region
Tohoku
Aomori

Iwate

Akita

Yamagata

Miyagi

Fukushima
Kanto
Tokyo

Tochigi

Ibaraki

Gunma

Chiba

Saitama

Kanagawa
Koshinetsusei
Niigata

Nagano

Yamanashi

Shizuoka
Chubu
Toyama

Ishikawa

Gifu

Aichi

Mie
Kinki
Fukui

Shiga

Kyoto

Osaka

Hyōgo

Nara

Wakayama
Chugoku
Tottori

Shimane

Okayama

Hiroshima

Yamaguchi
Shikoku
Tokushima

Kagawa

Ehime

Kochi
Kyusyu
Fukuoka

Saga

Nagasaki

Kumamoto

Oita

Miyazaki

Kagoshima
Select Category
Historic Sites/Landmarks
world heritages

samurai residence

national treasures/important cultural properties

historic sites/gardens

natural reserves/sanctuaries/scenic spots

castles/castle ruins
Shrines/Temples
shrines/temples

churches/chapels

cemeteries

other religious institutions
Offices/Commercial Facilities
offices/commercial buildings (exterior)

shopping malls, commercial complexes

large stores/suburban stores

inns/hotels
Shops/Residences
retail stores

traditional houses

restaurants/coffee shops

boutiques/specialty shops/drug stores

homes/residences

apartments/condominiums
Shopping Malls/Amusement Districts
markets/wholesale markets

shops in shopping arcades

restaurants & coffee shops in shopping arcades

halls/theaters/movie theaters

boutiques/specialty shops/drug stores

game arcades/pachinko parlors

bars/adult entertainment districts
Public Facilities/Halls
government & public facilities

public halls/assembly halls

halls/community centers
City Landscapes/Village Landscapes
City Landscapes

mountain villages

farm villages

fishing villages

urban areas/central city streets

residential areas near lakes & rivers

fields/pastures

farmlands/orchards
Nature/Mountains/Rivers/Valleys/Lakes
Nature

field of flowers

mountains/mountain trails/cabins

forests/woods

waterfalls/rivers/streams/canyons

lakes/swamps/reservoirs

Island
Hot Springs/Resorts
hot spring resorts/summer resorts

hotels/inns

cottages/lodges
Transportation
train stations/station surroundings

roadside station

railway tracks/railway crossings

parking lots (indoor & outdoor)

airports/airport buildings/heliports

ports/harbors/piers

bus stops/bus stations

boats & ships (interior & exterior)

trains/streetcars/monorails

ropeways/cablecars
Parks/Recreation Facilities
parks

amusemetn parks/theme parks

game arcades/pachinko parlors

zoos/aquariums/botanical gardens

museums/art museums/resource centers

beaches

swimming pools (indoor and outdoor)

camping grounds/cottages

ski slopes/golf courses

halls/theaters/movie theaters

bowling alleys/billiard rooms

other facilities
Roads/Streets/Bridges
wide streets with more than 3 lanes

roads with characteristics

roads and paths in mountains, forests, fields

slopes/hills/steps/stairs

bridges

tunnels

expressways/freeways/toll roads
Indoors
office building interiors

office rooms/meeting rooms

residence interiors

restaurant and coffee shop interiors

shop interiors

other facilities
Ruins/Remains/Closed Down Facilities/Vacant Lots
industrial facilities/closed down factories/ruins

quarries/mines

train station ruins/dead tracks

industrial ruins/war ruins & sites

vacant lots
Rooftops/Downward Views
views from mountain tops & observatories

roofs/balconies

aerial photos/bird's-eye views
Schools/Hospitals/Police Stations/Fire Stations
elementary schools/junior high schools/high schools

colleges/universities/vocational schools

hospitals/clinics

police stations

fire stations/firehouses

Self-Defense-Force facilities/U.S. Force facilities
Ports/Seasides/Beaches
beaches/shores/coastlines

seashores on Pacific Ocean side

seashores on Sea of Japan side

lighthouses/wharfs/piers

harbors/ports/canals/aquafarms

underwater/caves/deserted islands
Factories/Warehouses
warehouse & factory exteriors (including bird's-eye view)

facility interiors
Location Doubles/Look-alikes
schools/educational institutions

police stations/fire stations

hospitals/operating rooms

expressways/highways/bridges

domestic/in Japan

overseas

extraterrestrial
Night Views/Night Sceneries
illuminations/lighted-up facilities

night views
Festivals/Indigenous Items
indigenous entertainments/festivals/intangible cultural assets

events/functions
Select Others
Parking Available

Rest Area (rest station) Available

Restrooms Available

Past Shooting Info

Shooting Time Available

Requirements for Shootings

Application Deadlines

Explosions Possible

Places that look like other facilities

Use of Fire Possible

Use of Water Possible

Use of Drones Possible

Building Sets Possible

Closures Possible

Reservations Available