Nakasendo Unimajuku Machiyakan
Favorites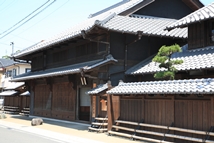 Location information
Name

Nakasendo Unimajuku Machiyakan
Address

Kagamigahara city, Gifu prefecture
Description

Museum displaying historical records of Unumajuku (station) in mid 16th to early 18 centuries.
Date of photo shooting

July 2013
Shooting Time

Noon
Weather at the Time of Shooting

Sunny
Contact info for inquiries
Name
Address

Regional Promotion Division, Department of Prefectual Policy Planning, Gifu Prefectural Government, 2-1-1 Minami-Yabuta, Gifu city, Gifu Prefecture, 500-8570

Contact Information

TEL:+81-58-272-8079
FAX:+81-58-278-2568
Contact
Area Map
※ The above map is showing the name of the location and the place name to origin. It's sometimes different from an actual place, so please accept it beforehand.