Kimigaeri Kannon
Favorites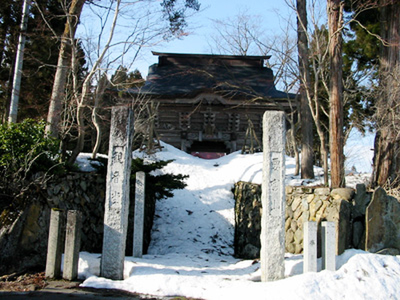 Location information
Name

Kimigaeri Kannon
Address

Minamiuonuma City, Niigata Prefecture
Description

Standing 1.39 meters tall, this Kannon (Goddess of Mercy) statue is one of Japan's largest wooden statues made from a single pillar wood. Designated as Niigata Prefecture's Cultural Property, both the engraving and writing are from 1220 when the statue was placed here.
Date of photo shooting

February 2003
Shooting Time

Noon
Weather at the Time of Shooting

Sunny
Category
Other
Shooting Time Available comments

Contact the film commission.
Contact info for inquiries
Address

4-1 Shinkocho, Chuo-ku, Niigata city, Niigata Prefecture, 950-8570

Contact Information

TEL:+81-25-283-1188
FAX:+81-25-283-4345
Contact
Area Map
※ The above map is showing the name of the location and the place name to origin. It's sometimes different from an actual place, so please accept it beforehand.
Other locations in the vicinity